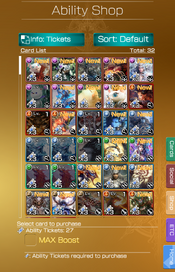 The Ability Shop is one of the systems in Mobius Final Fantasy.
Using Ability Tickets, players are able to buy Summoned Ability Cards which are otherwise only available through Ability Summoning; and exclusive Fast Learner Cards which are only available through this Shop.
Cards can either by purchased at their base form, at Ability Level 1 and no Skillseeds Unlocked; or a Max Boost with Max Ability Level and all Skillseeds unlocked.
Cards that are ★3+ rarity are the exception to this rule. They have Max Ability Level in their Base form and thus cost less to Max Boost. These cards are intended to help beginners ease into the game as they provide greater power and utility for their cost over their similarly priced counterparts. As a tradeoff for their added value, these cards are less powerful at their max than other cards and cannot be augmented to a higher rank.
If a player has acquired an Ability Card available from the Ability Shop at a higher rank, either from ★4 Ability Summon, ★5 Ability Summon (available during a brief promotional window) or Augmentation, that card will be available for purchase at the lower and highest rank of acquisition.
Cost of Cards
[
]
Rarity
Card Type
Base Cost
Max Boost Cost
3
Offensive
3 Ability Tickets
38 Ability Tickets
3+
9 Ability Tickets
4
5 Ability Tickets
100 Ability Tickets
4+
10 Ability Tickets
5
8 Ability Tickets
240 Ability Tickets
3
Offensive (Main target focused AoE)
43 Ability Tickets (3 Ability tickets once a card is summoned or purchased for the first time)
78 (38) Ability Tickets
4
5 Ability Tickets
100 Ability Tickets
5
8 Ability Tickets
240 Ability Tickets
2
Support
2 Ability Tickets
6 Ability Tickets
3
3/43 Ability Tickets (Former early acquisition tickets from Batch IV are 43 until summoned or purchased for the first time)
24/64 Ability Tickets
3+
3 Ability Tickets
9 Ability Tickets
4
5 Ability Tickets
50 Ability Tickets
4+
10 Ability Tickets
5
8 Ability Tickets
5+
Cards Available by Default
[
]
Cards Available Once Obtained
[
]