We're Getting Mutants in the MCU - The Loop
Play Sound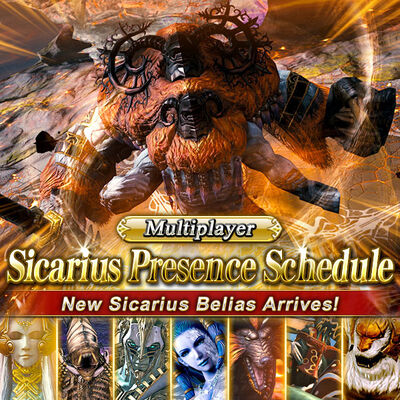 This month a new Sicarius has descended: Belias!
Belias drops a new component, so don't miss this chance to get a new Sicarius card or a new monk weapon that raises the chance of unlocking an Extra Skill!
In addition to information about the highlighted battle of this month, we would also like to introduce the schedule!

Summary
New Sicarius: Belias
Belias, the powerful Sicarius of flames who defies the gods, will be arriving to multiplayer on 7/6, from 7:00 p.m. (UTC-8)!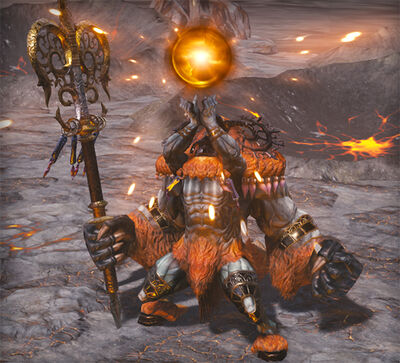 Belias' ability Eternal Flame applies the new ailment Oil, which greatly increases the amount of fire damage.
When adjusting your deck, it may be a good idea to choose jobs that use water or skills that have Esuna before challenging!

New Items Are Here!
Once Belias has arrived, the following components will become available for exchange.

・Belias Sicarius Card (Warrior/Mage/Ranger/Monk)


The image above is for the warrior-type card.

Following in Hecatoncheir's footsteps, Belias Sicarius's ability is an area attack!
The warrior-type, mage-type, and ranger-type ability have damage focus, while the monk-type ability has Break focus!

・New Monk Weapon Stargrasp ★1-4


The image is of a ★1 version.

Aside from the great effects the Stargrasp has in battle, it also increases the chance of unlocking extra skills!

In addition to this, the Red Jewel used to augment fire ability cards can also be exchanged for with Belias components.


Stargrasp X will only be available for a period of 2 weeks after each Belias ★4 quest appears.

Red Jewels are still available for exchange with the original required components.


★4 Quests
In addition to the new ★1-3 quests, Belias will also have an extremely difficult ★4 quest!
Once you are used to going toe-to-toe with Belias, try it out for some added challenge!

During the second fight of the ★4 quest, if you manage to clear after defeating both of the Guardians there is a chance that Belias will drop the limited-time component
Belias's Cinders.


Now's your chance to power up the new weapons and Belias Sicarius cards!


★4 Quest Schedule
★4 quests change every week. The schedule is listed below.
This month new new ability scrolls have also been included in the lineup!

Ultima & Belias 7:00 p.m. 7/6 - 6:59 p.m. 7/13 (UTC-8)



New ★4 Presence 1st Clear Reward: Summon Ticket
【Limited Item Trading Period】
7:00 p.m. 7/6 - 6:59 p.m. 7/20 (UTC-8)
【Limited Time Items】
Belias Sicarius ★3 (Warrior/Mage/Ranger/Monk), Red Jewel ★5
Stargrasp X (Monk weapon), Draw Coin ★1, ★2, and ★3
Cu Sith Scroll, Jotun Scroll, Writhe Scroll

Cu Sith Scroll, Jotun Scroll, and Writhe Scroll will also be available as limited time items on 7/2 when Ultima arrives.


Belias & Hashmal 7:00 p.m. 7/13 - 6:59 p.m. 7/20 (UTC-8)



Returning Presence 1st Clear Reward: Ability Ticket x 5
【Limited Item Trading Period】
7:00 p.m. 7/13 - 6:59 p.m. 7/27 (UTC-8)
【Limited Time Items】
Hashmal Sicarius ★3 (Warrior/Mage/Ranger/Monk), Yellow Jewel ★5
Eisenfaust X (Monk weapon), Draw Coin ★1, ★2, and ★3
Reiki Scroll, Lamorak Scroll, and Cetus Scroll