"
Chaos Vortex
A realm of death and chaos, where only the strong may hope to survive.
"
~ In-Game Description
The Chaos Vortex was the first major addition to Mobius Final Fantasy. While it was released as part of an event on August 6, 2016, it is a permanent Region of the game. It can be accessed on the World Map, near the Shrine of Trials.
The region has 41 areas, consisting of 5 areas for each Chapter completed, plus the starting point.
Region Details
[
]
The Chaos Vortex is a unique area with many different restrictions during play.
Battles cost no Stamina
Card Rental (the 5th card selection) is disabled
Phoenix Downs and Warp Shards cannot be used
There are no battle rewards: No Gil, Items, Cards or Skillseeds are awarded after each battle (excluding the first-time treasure chest)
Any Battle Scores earned are not counted
This makes the Chaos Vortex a great place to practice battling without worrying about stamina. This can help players compare different Decks in different situations.
Areas
[
]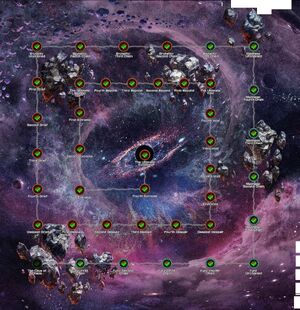 The region stretches for one long chain around the center "eye" of the Vortex. The areas are divided into groups of five, with progression to the next group unlocked after each Main Story Chapter completion.
Every Area in Chaos Vortex, except the very first, offers teleportation once cleared.
| Group Name | Chapter Completed |
| --- | --- |
| Fury | Chapter 1 |
| Madness | Chapter 2 |
| Brutality | Chapter 3, Part 2 |
| Grief | Chapter 4, Part 2 |
| Despair | Chapter 5, Part 2 |
| Void | Chapter 6, Part 2 |
| Beyond | Chapter 7 |
| Extreme | Chapter 8 |
Area Name
Number of Battles
First Time Reward
Battles
Voidrealm / The Cave of Chaos
-
-
Fury: First Chain
10
Gil x10000

Fury: Second Chain
7
Elixir x1

Fury: Third Chain
8
Phoenix Down x1

Fury: Fourth Chain
7
Ability Ticket x1

Fury Unchained
10
Summon Ticket x1

Madness: First Chain
5
Elixir x1
Fire Elemental Fiends

Madness: Second Chain
5
Phoenix Down x1
Water Elemental Fiends

Madness: Third Chain
5
Ability Ticket x3
Wind Elemental Fiends

Madness: Fourth Chain
5
Ability Ticket x3
Earth Elemental Fiends

Madness Unchained
4
Summon Ticket x1

Brutality: First Chain
4
Elixir x1

Brutality: Second Chain
7
Phoenix Down x1

Brutality: Third Chain
5
Ability Ticket x3

Brutality: Fourth Chain
8
Ability Ticket x3

Brutality Unchained
9
Summon Ticket x1

First Grief
6
Elixir x1

Light & Dark monsters (Dust and Grudge fiends)

Second Grief
6
Phoenix Down x1

4x Abyssan (Buster, Druid or Raider) (Fire, Water, Wind and Earth - 1 each)
4x Abyssan (Buster, Druid or Raider) (Fire, Water, Wind and Earth - 1 each)
2x Subatomos
2x Subatomos

Third Grief
7
Ability Ticket x3

Fourth Grief
7
Ability Ticket x3

Deepest Grief
6
Summon Ticket x2

First Despair
4
Elixir x1

Lesser Fire Bomb, Lesser Ice Bomb, Lesser Wind Bomb, Lesser Earth Bomb,

Lesser Light Bomb

,

Lesser Dark Bomb

(1 each)

Second Despair
4
Phoenix Down x1

Volcano Bomb, Avalanche Bomb, Typhoon Bomb, Quake Bomb (1 each)

Kesari

Third Despair
4
Ability Ticket x3

Lesser Fire Bomb, Lesser Ice Bomb, Lesser Wind Bomb, Lesser Earth Bomb,

Lesser Light Bomb

,

Lesser Dark Bomb

(1 each)

Fourth Despair
4
Ability Ticket x3

Deepest Despair
4
Summon Ticket x2

First Void
5
Bronze Opener x2

Second Void
5
Ability Ticket x5

2x Lesser Fire Bomb, 2x Volcano Bomb, Cockatrice
2x Grudge Fighter (Wind), 2x

Dust Pummeler (Fire)

2x Dust Sorcerer (Wind), 2x

Dust Pummeler (Fire)

, Grudge Fighter (Fire), Grudge Assassin (Wind)
2x Hell Claw,

Adrammelech

Third Void
5
Silver Opener x2

Dust Ripper (Water), Dust Soldier (Water),

Dust Pummeler (Earth)

, Grudge Wrestler (Water), 2x Quake Bomb, Avalanche Bomb
Mighty Golem,

Famfrit

Water & Earth Enemies (Dust and Grudge fiends)
4x Ice Essence, 2x Ice Wisp, Hecatoncheir

Fourth Void
6
Ability Ticket x10

8x Microchu
Fire Dust Fiends
4x

Dark Spirit

, 4x Dark Wisp
Earth Dust Fiends
4x

Light Spirit

, 4x Light Wisp
8x Tonberry

The Ultimate Void
5
Summon Ticket x2

Volcano Bomb, Quake Bomb, Typhoon Bomb, Avalanche Bomb,

Radiant Bomb

,

Gloom Bomb

Memory's Blade

First Beyond
4
Silver Opener x2

Takshaka

Second Beyond
4
Ability Ticket x10

2x Ophthalmos
2x Buffalo

Takshaka

Third Beyond
4
Ability Ticket x20

Vali

, Ninlil

Takshaka

, Blizzard Dragon

Fourth Beyond
4
Summon Ticket x1

Kesari

, Dullahan

Tiamat

The Ultimate Beyond
4
Summon Ticket x2

2x

Takshaka

Blizzard Dragon,

Tiamat

First Extreme
5
Silver Opener x3

Second Extreme
5
Gold Opener x3

Third Extreme
5
Ability Ticket x30

Fourth Extreme
2
Summon Ticket x1

Vargas ,

Memory's Blade

The Ultimate Extreme
4
Extranger★4
Summon Ticket x2
Magicite x500