"
Happy anniversary, MOBIUS FF!

Celebrate the occasion by participating in the festivities, and set out on an intimate journey with Princess Sarah!

"
~ In Game Description
First Anniversary, Part 2 is a celebration of the first year for Mobius Final Fantasy. The region includes many of the characters and foes that have appeared in previous Mobius events since the beginning of the game, including Dark Moogles, Gilgamesh, Vargas and more.
Event Details
[
]
First appearance -- August 16 to September 24, 2017
Second appearance -- June 11 to July 31, 2018
Third appearance -- March 27 to end of service, June 2020
How to Participate
[
]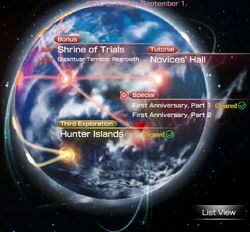 Go to the 1st Anniversary region spot on the World Map -- part of the red "specials" section.
You must have completed Chapter 1: Blank Slate and First Anniversary, Part 1 for it to appear.
Story
[
]
The Festival has calmed down and everyone has gone to sleep, except for Wol and Princess Sarah. The night won't end until everyone is asleep, so the two decide to walk it off with a stroll around the area. Wol quickly senses the presence of fiends around, and scraps the walk in favor of shelter -- something better than the Runic Temple. Moggy to the rescue... sort of. He's willing to open the way to a nearby Moogle village for a price. Sarah suggests stopping at the Royal Depository, which is also nearby. Sure, that might technically be stealing, but nobody will remember any actions when the morning comes.
Moggy is ecstatic with the payment, and gives a warning: the trail ahead has Dark Moogles on it, whom Wol remembers from their first encounter. There's also a crystal in the Moogle village that can supposedly end the night without needing everyone to sleep.
As Wol battles through the Dark Moogles, Sarah is struck by how despairing they are. Wol notes that they're born from that despair, rather than being engulfed by it. That makes it easier to kill them, suggesting to Sarah that Wol has a soft heart. Wol wonders about Sarah's own feelings, and she expresses a general unease, like a dark cloud hanging over everything... which Wol also feels. Even so, Sarah says she sometime isn't even sure who she is.
Traditionally, people cast their wishes to the stars during the festival, but Wol isn't one to wish; even to be the Warrior of Light. He figures he should fight for that instead. Sarah doesn't cast any wishes, because she doesn't know what it is she really wants. Echo doesn't have any difficulty with her wish, and gets it immediately -- more old enemies to fight! As Wol bashes his way through foes like Marilith, Ultros, Typhon, Vargas and a bevy of Shadow enemies, Sarah suggests she's really wishing for whatever it is that the Warrior of Light wants. Wol is a bit suspicious about this, since Sarah seems to have skill at saying exactly the words that the people around her want to hear, as evidenced by her speech to the Blanks during Chaos's onslaught.
Speaking of which, what if the night never ends? We could avoid Chaos entirely. Sadly no, says Sarah. Even during this special night, Chaos will eventually come. As long as Palamecia - and the Warrior of Light - exists, there will be Chaos.
The fiends make one last collective attempt to stop Wol, after which the wandering pair arrive at the moogle village. The dark crystal at its center beckons invitingly, but it's no surprise when touching it fails to end the night, and instead conjures Chaos. Wol fights a hard battle, and in the end Chaos turns away, same as it did in Chapter 3.
The dawn brings everyone awake and feeling good. It's a new day on a new year.. even for Wol. He is still a Blank, after all, and the quest to be the Warrior of Light is all he has, so he'll keep at it, one step at a time.
Event Map
[
]
"
Join the MOBIUS FF one-year anniversary celebrations!


The festival continues! Revel in your achievement, but remember—new challenges await!

"
~ World Map Description
There are 54 areas in total, including locked routes and 27 treasure chests.
The fiends found around the region scale to match the difficulty of the player, so exact enemies in each area vary widely. Enemies are also occasionally replaced by Cactuars or Metal Cactuars, whose cards can be used for upgrading your abilities.
At the end of the map is a set of infinitely looping levels, where the player can fight an ever-more-difficult Chaos and his minions.
Locations
[
]
Area
Stamina
Battles
(later runs)
Lock requirements
Enemy notes
later runs
Reward
Reward 2020
Temple: Rear Gate
6
3
Starting point.
Fire and water swarm sighted.
-
Hidden Trail
7
3
-
Fire and water swarm sighted.
-
Bandit's Way
7
3
-
Water swarm sighted.
-
Royal Depository
7
3
-
Wind swarm sighted.
Million-Gil Gold Ingot x1
Summon Ticket x1
Crystal x3
Bifurcating Trail
6
3
Million-Gil Gold Ingot x1
Fire and earth swarm sighted.
-
Sandstorm Woods
6
3
-
Wind and earth swarm sighted.
-
Haste Forest 1
6
3
-
Dark Moogle - Wind sighted.

Use Slow-type ailments to even the odds!

-
Haste Forest 2
7
3
-
Dark Moogle - Wind sighted.

Use Slow-type ailments to even the odds!

-
Haste Forest's End
8
4
-
Dread Moogle - Wind sighted.

Use Slow-type ailments to even the odds!

Wind Fractal★5
Pearl Clover x1
Wind Seed x300,000
Wall Forest 1
6
3
-
Dark Moogle - Earth sighted.

Use Unguard-type ailments to even the odds!

-
Wall Forest 2
7
3
-
Dark Moogle - Earth sighted.

Use Unguard-type ailments to even the odds!

-
Wall Forest's End
8
4
-
Dread Moogle - Earth sighted.

Use Unguard-type ailments to even the odds!

Pearl Clover x1
Magicite x100
Earth Seed x300,000
Scorchmist Woods
6
3
-
Fire and water swarm sighted.
-
Barrier Forest 1
6
3
-
Dark Moogle - Water sighted.

Use Debarrier-type ailments to even the odds!

-
Barrier Forest 2
7
3
-
Dark Moogle - Water sighted.

Use Debarrier-type ailments to even the odds!

-
Barrier Forest's End
8
4
-
Dread Moogle - Water sighted.

Use Debarrier-type ailments to even the odds!

Water Fractal★5
Pearl Clover x1
Water Seed x300,000
Brave Forest 1
6
3
-
Dark Moogle - Fire sighted.

Use Debrave-type ailments to even the odds!

-
Brave Forest 2
7
3
-
Dark Moogle - Fire sighted.

Use Debrave-type ailments to even the odds!

-
Brave Forest's End
8
4
-
Dread Moogle - Fire sighted.

Use Debrave-type ailments to even the odds!

Fire Fractal★5
Pearl Clover x1
Fire Seed x300,000
Gloomflash Woods
6
3
Pearl Clover x4
Light and dark swarm sighted.
-
Faith Forest 1
6
3
-

Dark Moogle - Dark

sighted.

Use Curse-type ailments to even the odds!

-
Faith Forest 2
7
3
-

Dark Moogle - Dark

sighted.

Use Curse-type ailments to even the odds!

-
Faith Forest's End
8
4
-

Dread Moogle - Dark

sighted.

Use Curse-type ailments to even the odds!

Dark Fractal★5
Pearl Clover x1
Dark Seed x300,000
Regen Forest 1
6
3
-

Dark Moogle - Light

sighted.

Use Bio-type ailments to even the odds!

-
Regen Forest 2
7
3
-

Dark Moogle - Light

sighted.

Use Bio-type ailments to even the odds!

-
Regen Forest's End
8
4
-

Dread Moogle - Light

sighted.

Use Bio-type ailments to even the odds!

Light Fractal★5
Pearl Clover x1
Light Seed x300,000
Starglow Road
9
4
Pearl Clover x2
Fire and water swarm sighted.
Summon Ticket x1
Ability Ticket x10
Summon Ticket x1
Ability Ticket x30
Stardust Peak
9
4
-
Water swarm sighted.
(no treasure!)
Phoenix Down x2
Comet's Wake
9
4
-
Wind swarm sighted.
Elixir x2
Moogle Cross
9
4
-
Water and wind swarm sighted.
Mog Amulet★4
Summon Ticket x1
Gate of Trials
10
5 (4)
-
Cockatrice sighted.
Shadow Paladin sighted.
-
Field of Trials
9 (10)
4 (2)
-
Imperial Lich sighted.
Dyadic Lich sighted.
-
End of Trials
10
5 (4)
-
Marilith sighted.
Atomos sighted.
Mark of Trials x1
Magicite x100
Hazy Ladder
9
4
Mark of Trials x1
Fire and water swarm sighted.
(no treasure!)
Mystic Tablet x3
Gate of Conflict
10
5 (4)
-
Shadow swarm sighted. Beware ability-weakening attacks.
Wind and earth swarm sighted.
-
Field of Conflict
10
5 (4)
-
Shadow swarm sighted. Beware ability-weakening attacks.
Earth and dark swarm sighted.
-
End of Conflict
10
4 (3)
-
Vargas sighted. Fight with all your might!
Shadow swarm sighted.
Mark of Conflict x1
Magicite x200
Starry Circle
9
4
Mark of Conflict x1
Wind swarm sighted.

Skill Coin ★3

x1
Gate of Battle
10
3 (2)
-
Kraken sighted.
Demon Wall sighted.
-
Field of Battle
10
3 (2)
-
Ultros sighted.
Dullahan sighted.
-
Apex of Battle
10
3 (2)
-
Typhon sighted.
Enlil sighted.
-
End of Battle
10
3 (2)
-
Ultros and Typhon sighted.
Kraken sighted.
Mark of Battle x1
Magicite x300
Daylight's Edge
9
4
Mark of Battle x1
Shadow Paladin sighted
Gold Opener x1
Gate of Strife
10
4 (3)
-
Guardian Cockadrille sighted.
Water swarm sighted.
-
Field of Strife
10
4 (3)
-
Guardian Azi Dahaka sighted.
Earth swarm sighted.
Fire Pneuma x1
Water Pneuma x1
Apex of Strife
10
4 (3)
-
Guardian Omega Custom sighted.
Dark boss sighted.
Wind Pneuma x1
Earth Pneuma x1
End of Strife
10
5 (4)
-
Gilgamesh Prime sighted.
Guardian Diamanterrapin sighted.
Light Pneuma x1
Dark Pneuma x1
Mark of Strife x1
Dreams' End (first run)
15
8
Mark of Strife x1
The Anniversary All-Stars await!
Fight with all your might!
Mog Amulet x1
Gigantuar Bulb★3
Summon Ticket x1
Gigantuar Bulb★3
Summon Ticket x1
Overbooster-J x2
Dreams' End (second run)
15
1
-
Chaos awaits... Fulfill your destiny!
Summon Ticket x2
Magicite x300
Dreams' End (third run)
10
5
-
Gilgamesh awaits.
He holds an Anniversary Tome!
-
Defy Chaos
15
5 (4)
-
Chaos awaits... Fulfill your destiny!
Wind and earth swarm sighted.
Extranger★4
Resist Chaos
15
5 (4)
-
Chaos awaits... Fulfill your destiny!
Earth and dark swarm sighted.
Crystal x5
Repel Chaos
15
5 (4)
-
Chaos awaits... Fulfill your destiny!
Wind and dark swarm sighted.
Muramasa X
Summon Ticket x1
Chaotic Coil (1)
10
3
-
Chaos awaits... Fulfill your destiny!
Fire and water swarm sighted.
Ability Ticket x1
Chaotic Coil (2)
10
3
-
Chaos awaits... Fulfill your destiny!
Water and light swarm sighted.
Ability Ticket x1
Chaotic Coil (3)
10
3
-
Chaos awaits... Fulfill your destiny!
Fire and light swarm sighted.
Ability Ticket x1
Key Items
[
]
Million-Gil Gold Ingot
Pearl Clover
Mark of Trials
Mark of Conflict
Mark of Battle
Mark of Strife
Chaos Mark
Prizes
[
]
Special prizes that can be picked up include:
Memories
[
]
Many of the cutscenes in this region include replays of scenes from previous adventures / regions. These include:
Fiends
[
]
Reference
[
]