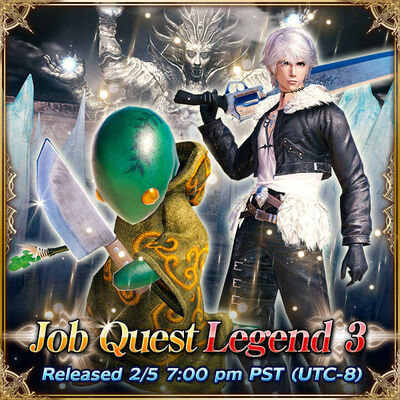 Hall of Fame: Legends 3 is a job quest region that was added on February 5th, 2019.
Prerequisite
[
]
The region is accessible from Act 2 world map after completing Chapter I: Blank Slate.
Each path is only accessible while using the forced job card. For using the given skill cards all skill panels of this job have to be unlocked up to and including ★8!
Content
[
]
There are 8 job quests in Hall of Fame: Legends 3:
Areas
[
]
There are 81 areas and 72 treasure chests. All areas in this region are teleport points. The entry point "Hall of Fame" cannot be teleported to, is not connected to any area, and is permanently completed and locked.
Unlock Requirements
[
]
Unlock requirements

| Name | Description | Information |
| --- | --- | --- |
| Ability Extravaganza | Complete <area> with target number of ability uses or fewer. | Ability uses: X |
| Ability Tactics | Complete <area> using weakness abilities target times or more. | Weakness ability used: X |
| Ambidextrous | Use the sub-attack enough times in <area>! | Sub-Attack Uses: X |
| Anti-Break | Complete <area> with target number of Breaks or fewer. | Enemies broken: X |
| Any Means Necessary | Complete <area> with target number of enemy ailments or more. | Enemy Ailments: X |
| Assassin Nonpareil | Complete <area> with target number of enemies or more defeated with one ability. | Defeated with w/ one ability: X |
| Battlefield Butterfly | Complete <area> with target number of attacks received or fewer. | Enemy attacks received: X |
| Devour the Weak | Complete <area> with target number of enemies or more defeated with their elemental weakness. | Defeated with E. Weakness: X |
| Elegant Executioner | Complete <area> with target number of enemies or more defeated by Ultimates. | Defeated with Ultimates: X |
| Element Party | Complete <area> with target orbs drawn or more. | Orbs drawn: X |
| Endurance Fight | Complete <area> with target total number of turns in battle or more. | Turns in battle: X |
| Enhanced Hunter | Complete <area> with target number of self-boon types or more. | Self-boon types: X |
| Festival of Life | Complete <area> using support abilities target times or more. | Support Ability Uses: X |
| Festival of Water | Complete <area> using water abilities target times or more. | Water Ability Uses: X |
| Forbidden Darkness | Complete <area> using dark abilities target times or less. | Dark Ability Uses: X |
| Forbidden Fire | Complete <area> using fire abilities target times or less. | Fire Ability Uses: X |
| Forbidden Life | Complete <area> using support abilities target times or less. | Support Ability Uses: X |
| Forbidden Light | Complete <area> using light abilities target number of times or less. | Light Ability Uses: X |
| Go for Broke | Complete <area> dealing target top damage or more to your enemies. | Top Damage to Enemy: X |
| Hard Breaker | Complete <area> with target number of Breaks or more. | Enemies broken: X |
| Hard Hitter | Complete <area> with target number of enemies or more defeated with Attack. | Enemies defeated with Attack: X |
| Hero of Compassion | Complete <area> with target number of enemy ailments or fewer. | Enemy Ailments: X |
| High Scorer | Complete <area> with target Battle Score or higher. | Battle Score: X |
| Intimidating Presence | Overwhelm your foe enough times in <area>! | No. of Foes Overwhelmed: X |
| Iron Defense | Complete <area> with target highest damage received or less. | Highest damage received: X |
| Master Trickster | Complete <area> with target number of enemy ailment types or more. | Enemy ailment types: X |
| Merciful Angel | Complete <area> with target HP regen or more. | Total HP regen: X |
| Prepared Tactician | Complete <area> using target number of support abilities or more. | Support Abilities Used: X |
| Quick Changer | Complete <area> with target number of job changes or more. | Job Changes: X |
| Quick Sweep | Complete <area> with target number of turns per battle or less. | Top Turns per Battle: X |
| Stalwart Defender | Complete <area> with target total damage taken or less. | Total damage taken: X |
| Steady Defense | Complete <area> with target number of attacks resisted or more. | Enemy attacks resisted: X |
| Time Limit | Complete <area> with target total number of turns in battle or fewer. | Turns in battle: X |
| The Obstinate | Complete <area> with target number of job changes or fewer. | Job Changes: X |
| Ultimate Blow | Complete <area> with target number of enemies or more defeated with one Ultimate! | Defeated w/ one Ultimate: X |
| Ultimate Technique | Complete <area> using target number of Ultimates or more to Break. | Broken with Ultimates: X |
| Ultimate Trial | Master the <area>! | - |
| Ultimates on Parade | Complete <area> using target number of Ultimates or more. | Ultimates Used: X |
| Unleash the Darkness | Complete <area> defeating target number or enemies or more with dark. | Defeated with Dark: X |
| Unleash the Flames | Complete <area> defeating target number or enemies or more with fire. | Defeated with Fire: X |
| Unleash the Lands | Complete <area> defeating target number or enemies or more with earth. | Defeated with Earth: X |
| Unleash the Radiance | Complete <area> defeating target number or enemies or more with light. | Defeated with Light: X |
| Unleash the Waves | Complete <area> defeating target number or enemies or more with water. | Defeated with Water: X |
| Unleash the Winds | Complete <area> defeating target number or enemies or more with wind. | Defeated with Wind: X |
| Unrivaled Champion | Complete <area> with target number of boons or more. | Boons: X |
| Weakness Killer | Complete <area> with target number of enemies or more defeated with a weakness ability. | Defeated w/ weakness ability: X |
| Wipe the Floor | Complete <area> with target number of enemies or more defeated at once. | Enemies defeated at once: X |
Balamb Mercenary's Path
[
]
Area name
Stamina
Battles
Warnings & Area Status Effects
Unlock requirement to proceed
Treasure
Balamb Mercenary Crystal
6
3
Fire swarm sighted.
None
None
Balamb Mercenary's Path 1
6
4
Overcome the trials as a Balamb mercenary!
No Rental Cards!
Weakness Killer
Defeated w/ weakness ability: 5
Balamb Mercenary skill card ★5 "Base Attributes+40%"
Balamb Mercenary's Path 2
6
4
Overcome the trials as a Balamb mercenary!
No Rental Cards!
Steady Defense
Enemy attacks resisted: 6
Balamb Mercenary skill card ★5 "Improved Criticals+250%"
Balamb Mercenary's Path 3
6
4
Overcome the trials as a Balamb mercenary!
No Rental Cards!
Go for Broke
Top Damage to Enemy: 350,000
Crystal x3
Balamb Mercenary skill card ★5 "Ability Chain+200%"
Balamb Mercenary's Trial 1
6
4
Overcome the trials as a Balamb mercenary!
No Rental Cards!
Elegant Executioner
Defeated with Ultimates: 3
General skill card ★2 "Avert Crit Down+10%"
Balamb Mercenary's Trial 2
6
4
Overcome the trials as a Balamb mercenary!
No Rental Cards!
No Limits
Mobius Zone Activations: 1
General skill card ★2 "Avert Crit Down+10%"
Balamb Mercenary's Trial 3
6
4
Overcome the trials as a Balamb mercenary!
No Rental Cards!
Quick Sweep
Top Turns per Battle: 3
Crystal x5
Balamb Mercenary skill card ★5 "Prismatic Return+20%"
Balamb Mercenary's Teachings
6
4
Overcome the trials as a Balamb mercenary!
No Rental Cards, No Continues!
Enemy Status Effects:  Immune to Stun,  Immune to Slow
Ultimate Trial
Master the Balamb Mercenary's Teachings!
General skill card ★3 "Avert Crit Down+15%"
Balamb Mercenary's Pinnacle
6
4
Overcome the trials as a Balamb mercenary!
No Rental Cards, No Continues!
Enemy Status Effects:  Immune to Stun,  Immune to Slow
Player Status Effects:  Snipe
Ultimate Trial
Master the Balamb Mercenary's Pinnacle!
General skill card ★4 "Magic+10%"
Balamb Mercenary's Hall
6
4
Overcome the trials as a Balamb mercenary!
No Rental Cards, No Continues!
Enemy Status Effects:  Immune to Stun,  Immune to Slow,  Immune to Unguard
Player Status Effects:  Snipe
None
Ability Ticket x10
Magicite x300
Special skill card ★4 "Skilled Duelist+5%"
Story Completion Reward:
Balamb Mercenary's Fame
Tonberry Suit's Path
[
]
Area name
Stamina
Battles
Warnings & Area Status Effects
Unlock requirement to proceed
Treasure
Tonberry Suit Crystal
6
3
Fire swarm sighted.
None
None
Tonberry Suit's Path 1
6
4
Overcome the trials as a tonberry suit!
No Rental Cards!
Enhanced Hunter
Self-boon types: 6
Tonberry Suit skill card ★5 "Base Attributes+39%"
Tonberry Suit's Path 2
6
4
Overcome the trials as a tonberry suit!
No Rental Cards!
Assassin Nonpareil
Defeated w/ one ability: 4
Tonberry Suit skill card ★5 "EXP Up+39%"
Tonberry Suit's Path 3
6
4
Overcome the trials as a tonberry suit!
No Rental Cards!
Unleash the Darkness
Defeated with Dark: 6
Crystal x3
Tonberry Suit skill card ★5 "Kill & Draw+16"
Tonberry Suit's Trial 1
6
4
Overcome the trials as a tonberry suit!
No Rental Cards!
Ambidextrous
Sub-Attack Uses: 4
General skill card ★2 "Avert Stun+10%"
Tonberry Suit's Trial 2
6
4
Overcome the trials as a tonberry suit!
No Rental Cards!
Elegant Executioner
Defeated with Ultimates: 3
General skill card ★2 "Avert Stun+10%"
Tonberry Suit's Trial 3
6
4
Overcome the trials as a tonberry suit!
No Rental Cards!
Go for Broke
Top Damage to Enemy: 250,000
Crystal x5
Tonberry Suit skill card ★5 "Magic+1000%"
Tonberry Suit's Teachings
6
4
Overcome the trials as a tonberry suit!
No Rental Cards, No Continues!
Enemy Status Effects:  Immune to Stun,  Immune to Slow
Ultimate Trial
Master the Tonberry Suit's Teachings!
General skill card ★3 "Avert Stun+15%"
Tonberry Suit's Pinnacle
6
4
Overcome the trials as a tonberry suit!
No Rental Cards, No Continues!
Enemy Status Effects:  Immune to Stun,  Immune to Slow
Player Status Effects:  Faith
Ultimate Trial
Master the Tonberry Suit's Pinnacle!
General skill card ★4 "EXP Up+4%"
Tonberry Suit's Hall
6
4
Overcome the trials as a tonberry suit!
No Rental Cards, No Continues!
Enemy Status Effects:  Immune to Stun,  Immune to Slow,  Berserk
Player Status Effects:  Faith
None
Ability Ticket x10
Magicite x300
Special skill card ★4 "Ravage+5%"
Story Completion Reward:
Tonberry Suit's Fame
Thief of Tantalus's Path
[
]
Area name
Stamina
Battles
Warnings & Area Status Effects
Unlock requirement to proceed
Treasure
Thief of Tantalus Crystal
6
3
Fire swarm sighted.
None
None
Thief of Tantalus's Path 1
6
4
Overcome the trials as a thief of Tantalus!
No Rental Cards!
Unleash the Radiance
Defeated with Light: 5
Thief of Tantalus skill card ★5 "Base Attributes+40%"
Thief of Tantalus's Path 2
6
4
Overcome the trials as a thief of Tantalus!
No Rental Cards!
Weakness Killer
Defeated w/ weakness ability: 7
Thief of Tantalus skill card ★5 "Exploit Weakness+250%"
Thief of Tantalus's Path 3
6
4
Overcome the trials as a thief of Tantalus!
No Rental Cards!
High Scorer
Battle Score: 13,000,000
Crystal x3
Thief of Tantalus skill card ★5 "Piercing Break+200%"
Thief of Tantalus's Trial 1
6
4
Overcome the trials as a thief of Tantalus!
No Rental Cards!
Stalwart Defender
Total damage taken: 2000
General skill card ★2 "Avert Break Power Down+10%"
Thief of Tantalus's Trial 2
6
4
Overcome the trials as a thief of Tantalus!
No Rental Cards!
Intimidating Presence
No. of Foes Overwhelmed: 20
General skill card ★2 "Avert Break Power Down+10%"
Thief of Tantalus's Trial 3
6
4
Overcome the trials as a thief of Tantalus!
No Rental Cards!
Ultimate Technique
Broken with Ultimates: 4
Crystal x5
Thief of Tantalus skill card ★5 "Spellsword"
Thief of Tantalus's Teachings
6
4
Overcome the trials as a thief of Tantalus!
No Rental Cards, No Continues!
Enemy Status Effects:
 Immune to Stun,  Immune to Sleep
Ultimate Trial
Master the Thief of Tantalus's Teachings!
General skill card ★3 "Avert Break Power Down+15%"
Thief of Tantalus's Pinnacle
6
4
Overcome the trials as a thief of Tantalus!
No Rental Cards, No Continues!
Enemy Status Effects:
 Immune to Stun,  Immune to Sleep 
Ultimate Trial
Master the Thief of Tantalus's Pinnacle!
General skill card ★4 "Break Power+12"
Thief of Tantalus's Hall
6
4
Overcome the trials as a thief of Tantalus!
No Rental Cards, No Continues!
Enemy Status Effects:  Immune to Stun,
 Immune to Sleep,  Immune to Slow
Player Status Effects:  Boost
None
Ability Ticket x10
Magicite x300
Special skill card ★4 "Ravage+5%"
Story Completion Reward:
Thief of Tantalus's Fame
Moogle Suit's Path
[
]
Area name
Stamina
Battles
Warnings & Area Status Effects
Unlock requirement to proceed
Treasure
Moogle Suit Crystal
6
3
Fire swarm sighted.
None
None
Moogle Suit's Path 1
6
4
Overcome the trials as a Moogle Suit!
No Rental Cards!
Hard Breaker
Enemies broken: 5
Moogle Suit skill card ★5 "Base Attributes+40%"
Moogle Suit's Path 2
6
4
Overcome the trials as a Moogle Suit!
No Rental Cards!
Enhanced Hunter
Self-boon types: 8
Moogle Suit skill card ★5 "Crystal Seeker+100"
Moogle Suit's Path 3
6
4
Overcome the trials as a Moogle Suit!
No Rental Cards!
Quick Sweep
Top Turns per Battle: 1
Crystal x3
Moogle Suit skill card ★5 "Skilled Duelist+25%"
Moogle Suit's Trial 1
6
4
Overcome the trials as a Moogle Suit!
No Rental Cards!
Master Trickster
Enemy ailment types: 6
General skill card ★2 "Avert Action Loss+10%"
Moogle Suit's Trial 2
6
4
Overcome the trials as a Moogle Suit!
No Rental Cards!
Quick Changer
Job Changes: 4
General skill card ★2 "Avert Action Loss+10%"
Moogle Suit's Trial 3
6
4
Overcome the trials as a Moogle Suit!
No Rental Cards!
Steady Defense
Enemy attacks resisted: 30
Crystal x5
Moogle Suit skill card ★5 "HP+10000"
Moogle Suit's Teachings
6
4
Overcome the trials as a Moogle Suit!
No Rental Cards, No Continues!
Enemy Status Effects:  Berserk
Player Status Effects:  Brave
Ultimate Trial
Master the Moogle Suit's Teachings!
General skill card ★3 "Avert Action Loss+15%"
Moogle Suit's Pinnacle
6
4
Overcome the trials as a Moogle Suit!
No Rental Cards, No Continues!
Enemy Status Effects:  Berserk
Player Status Effects:  Brave  Lucid Fist
Ultimate Trial
Master the Moogle Suit's Pinnacle!
General skill card ★4 "Deck Level Up+2"
Moogle Suit's Hall
6
4
Overcome the trials as a Moogle Suit!
No Rental Cards, No Continues!
Enemy Status Effects:   Berserk,  Immune to Stun
Player Status Effects:  Brave  Lucid Fist
None
Ability Ticket x10
Magicite x300
Special skill card ★4 "Skilled Duelist+5%"
Story Completion Reward:
Moogle Suit's Fame
Unbroken Hero's Path
[
]
Area name
Stamina
Battles
Warnings & Area Status Effects
Unlock requirement to proceed
Treasure
Unbroken Hero Crystal
6
3
Fire swarm sighted.
None
None
Unbroken Hero's Path 1
6
4
Overcome the trials as an unbroken hero!
No Rental Cards!
Time Limit
Turns in battle: 5
Unbroken Hero skill card ★5 "Base Attributes+40%"
Unbroken Hero's Path 2
6
4
Overcome the trials as an unbroken hero!
No Rental Cards!
Stalwart Defender
Total damage taken: 3000
Unbroken Hero skill card ★5 "Defense+20"
Unbroken Hero's Path 3
6
4
Overcome the trials as an unbroken hero!
No Rental Cards!
Anti-Break
Enemies Broken: 8
Crystal x3
Unbroken Hero skill card ★5 "Flash Break+500%"
Unbroken Hero's Trial 1
6
4
Overcome the trials as an unbroken hero!
No Rental Cards!
Wipe the Floor
Enemies defeated at once: 5
General skill card ★2 "Enhance Water+4%"
Unbroken Hero's Trial 2
6
4
Overcome the trials as an unbroken hero!
No Rental Cards!
Battlefield Butterfly
Enemy attacks received: 12
General skill card ★2 "Enhance Dark+4%"
Unbroken Hero's Trial 3
6
4
Overcome the trials as an unbroken hero!
No Rental Cards!
Festival of Water
Water Ability Uses: 18
Crystal x5
Unbroken Hero skill card ★5 "Prismatic Return+20%"
Unbroken Hero's Teachings
6
4
Overcome the trials as an unbroken hero!
No Rental Cards, No Continues!
Enemy Status Effects:  Immune to Stun,  Immune to Unguard
Ultimate Trial
Master the Unbroken Hero's Teachings!
General skill card ★4 "Painful Break+8%"
Unbroken Hero's Pinnacle
6
4
Overcome the trials as an unbroken hero!
No Rental Cards, No Continues!
Enemy Status Effects:  Immune to Stun
Ultimate Trial
Master the Unbroken Hero's Pinnacle!
General skill card ★4 "Break Power+12"
Unbroken Hero's Hall
6
4
Overcome the trials as an unbroken hero!
No Rental Cards, No Continues!
Enemy Status Effects:  Immune to ailments
None
Ability Ticket x10
Magicite x300
Special skill card ★4 "Flash Break+12%"
Story Completion Reward:
Unbroken Hero's Fame
Hope's Guide's Path
[
]
Area name
Stamina
Battles
Warnings & Area Status Effects
Unlock requirement to proceed
Treasure
Hope's Guide Crystal
6
3
Fire swarm sighted.
None
None
Hope's Guide's Path 1
6
4
Overcome the trials as a Hope's guide!
No Rental Cards!
Wipe the Floor
Enemies defeated at once: 3
Hope's Guide skill card ★5 "Base Attributes+40%"
Hope's Guide's Path 2
6
4
Overcome the trials as a Hope's guide!
No Rental Cards!
Weakness Killer
Defeated w/ weakness ability: 7
Hope's Guide skill card ★5 "Exploit Weakness+250%"
Hope's Guide's Path 3
6
4
Overcome the trials as a Hope's guide!
No Rental Cards!
Hard Breaker
Enemies broken: 6
Crystal x3
Hope's Guide skill card ★5 "Piercing Break+400%"
Hope's Guide's Trial 1
6
4
Overcome the trials as a Hope's guide!
No Rental Cards!
Time Limit
Turns in battle: 10
General skill card ★2 "Enhance Earth+4%"
Hope's Guide's Trial 2
6
4
Overcome the trials as a Hope's guide!
No Rental Cards!
Ultimate Technique
Broken with Ultimates: 3
General skill card ★2 "Enhance Light+4%"
Hope's Guide's Trial 3
6
4
Overcome the trials as a Hope's guide!
No Rental Cards!
Intimidating Presence
No. of Foes Overwhelmed: 15
Crystal x5
Hope's Guide skill card ★5 "Quick Break+20%"
Hope's Guide's Teachings
6
4
Overcome the trials as a Hope's guide!
No Rental Cards, No Continues!
Enemy Status Effects:  Immune to Unguard
Ultimate Trial
Master the Hope's Guide's Teachings!
General skill card ★3 "Magic+8%"
Hope's Guide's Pinnacle
6
4
Overcome the trials as a Hope's guide!
No Rental Cards, No Continues!
Enemy Status Effects:  Immune to Unguard
Ultimate Trial
Master the Hope's Guide's Pinnacle!
General skill card ★4 "Break Power+12"
Hope's Guide's Hall
6
4
Overcome the trials as a Hope's guide!
No Rental Cards, No Continues!
Enemy Status Effects:  Immune to Unguard,
 Immune to Slow,  Immune to Stun
Player Status Effects:  Haste
None
Ability Ticket x10
Magicite x300
Special skill card ★4 "Prismatic Draw+10%"
Story Completion Reward:
Hope's Guide's Fame
Knight of Etro's Path
[
]
Area name
Stamina
Battles
Warnings & Area Status Effects
Unlock requirement to proceed
Treasure
Knight of Etro Crystal
6
3
Fire swarm sighted.
None
None
Knight of Etro's Path 1
6
4
Overcome the trials as a knight of Etro!
No Rental Cards!
Time Limit
Turns in battle: 6
Knight of Etro skill card ★5 "Base Attributes+40%"
Knight of Etro's Path 2
6
4
Overcome the trials as a knight of Etro!
No Rental Cards!
Unleash the Radiance
Defeated with Light: 10
Knight of Etro skill card ★5 "Enhance Light+400%"
Knight of Etro's Path 3
6
4
Overcome the trials as a knight of Etro!
No Rental Cards!
Wipe the Floor
Enemies defeated at once: 4
Crystal x3
Knight of Etro skill card ★5 "Flash Break+400%"
Knight of Etro's Trial 1
6
4
Overcome the trials as a knight of Etro!
No Rental Cards!
Go for Broke
Top Damage to Enemy: 500,000
General skill card ★3 "Break Power+10"
Knight of Etro's Trial 2
6
4
Overcome the trials as a knight of Etro!
No Rental Cards!
Forbidden Life
Support Ability Uses: 3
General skill card ★3 "Deck Level Up+1"
Knight of Etro's Trial 3
6
4
Overcome the trials as a knight of Etro!
No Rental Cards!
Ultimate Technique
Broken with Ultimates: 3
Crystal x5
Knight of Etro skill card ★5 "Spellsword"
Knight of Etro's Teachings
6
4
Overcome the trials as a knight of Etro!
No Rental Cards, No Continues!
Enemy Status Effects:  Immune to Unguard
Ultimate Trial
Master the Knight of Etro's Teachings!
General skill card ★3 "Deck Level Up+2 "
Knight of Etro's Pinnacle
6
4
Overcome the trials as a knight of Etro!
No Rental Cards, No Continues!
Enemy Status Effects: Sleep
Player Status Effects:  Boost,  Snipe
Ultimate Trial
Master the Knight of Etro's Pinnacle!
General skill card ★4 "Enhance Light+7%"
Knight of Etro's Hall
6
4
Overcome the trials as a knight of Etro!
No Rental Cards, No Continues!
Enemy Status Effects: Stun
None
Ability Ticket x10
Magicite x300
Special skill card ★4 "Prismatic Return+10%"
Story Completion Reward:
Knight of Etro's Fame
Last Hunter's Path
[
]
Area name
Stamina
Battles
Warnings & Area Status Effects
Unlock requirement to proceed
Treasure
Last Hunter Crystal
6
3
Fire swarm sighted.
None
None
Last Hunter's Path 1
6
4
Overcome the trials as a last hunter!
No Rental Cards!
Quick Sweep
Top Turns per Battle: 2
Last Hunter skill card ★5 "Base Attributes+40%"
Last Hunter's Path 2
6
4
Overcome the trials as a last hunter!
No Rental Cards!
Hard Breaker
Enemies broken: 10
Last Hunter skill card ★5 "Piercing Break+300%"
Last Hunter's Path 3
6
4
Overcome the trials as a last hunter!
No Rental Cards!
Battlefield Butterfly
Enemy attacks received: 3
Crystal x3
Last Hunter skill card ★5 "Quick Break+25%"
Last Hunter's Trial 1
6
4
Overcome the trials as a last hunter!
No Rental Cards!
Forbidden Fire
Fire Ability Uses: 7
General skill card ★3 "Enhance Fire+5%"
Last Hunter's Trial 2
6
4
Overcome the trials as a last hunter!
No Rental Cards!
Forbidden Darkness
Dark Ability Uses: 5
General skill card ★3 "Enhance Dark+5%"
Last Hunter's Trial 3
6
4
Overcome the trials as a last hunter!
No Rental Cards!
High Scorer
Battle Score: 15,000,000
Crystal x5
Last Hunter skill card ★5 "Improved Criticals+450%"
Last Hunter's Teachings
6
4
Overcome the trials as a last hunter!
No Rental Cards, No Continues!
Enemy Status Effects:  Immune to Unguard
Ultimate Trial
Master the Last Hunter's Teachings!
General skill card ★4 "EXP Up+4%"
Last Hunter's Pinnacle
6
4
Overcome the trials as a last hunter!
No Rental Cards, No Continues!
Player Status Effects:  Snipe,  Boost
Ultimate Trial
Master the Last Hunter's Pinnacle!
General skill card ★4 "Break Power+12"
Last Hunter's Hall
6
4
Overcome the trials as a last hunter!
No Rental Cards, No Continues!
Enemy Status Effects: Break Defense Down, Critical Resist Down
Player Status Effects:  Snipe,  Boost
None
Ability Ticket x10
Magicite x300
Special skill card ★4 "Boost Starter"
Story Completion Reward:
Last Hunter's Fame
Achievements & Rewards
[
]
Details
Reward
Job Quest Complete!
Congratulations on completing the job quests.
Summon Ticket x3