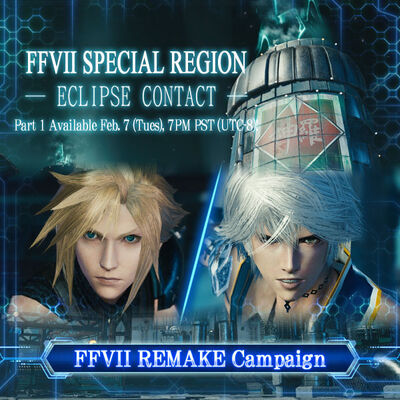 | | | |
| --- | --- | --- |
| " | Even the SOLDIER from a faraway land knows the law of Palamecia: The warrior who does not fight is forgotten. | " |
| | ~ Game Description | |
Mako Reactor 2: Upper Levels is the second of the dungeon regions for the Eclipse Contact event -- part of the Final Fantasy VII Collaboration Event. Players gain access here after finishing Mako Reactor 1, and face off in the end against the Guard Scorpion Mk.I.
Event Details
[
]
See the pages for Eclipse Contact and Final Fantasy VII Collaboration Event.
Story
[
]
Wol and Cloud meet up at the second reactor. Wol wonders if he's proven himself yet, but Cloud isn't ready to trust someone he's just met. The two work together as before: Wol mops up the fiends while Cloud flips the switches. Cloud keeps Wol in sight, if only because Wol is useful. Not the nicest way to put it, but nice in an indifferent sort of way.
How long would it actually take for these reactors to kill the planet? Maybe decades, Cloud says, if the monsters driven by Mako energy don't kill them all before that.
Cloud also seems to be distracted by something. Eventually he asks if Wol knows a way back to where he came from. But Wol has no idea. Being a Blank, Wol has no memory of where home is. Cloud, however, has bits and pieces of it... and more comes back with each reactor that gets shut down. Sounds like he has his own reason to fight now... so on we go!
To be continued in Mako Reactor 2: Lower Levels
Event Map
[
]
| | | |
| --- | --- | --- |
| " | Mako reactors are draining the life from Palamecia! You must help Cloud shut them down! | " |
| | ~ Map Description | |
Many of the paths on this map are locked, and require specific switches to be thrown to gain access.
There are teleport spaces marked to help you travel from one section of the region to another. Except for the initial journey, these are largely superfluous -- you can teleport to any area you've already defeated.
There are 37 areas in total on this map, including 23 treasure chests, 7 locked routes, and 2 "Teleport" sites. Difficulty will scale depending on how strong you are, so enemies will vary from player to player.
Map Locations
[
]
Name
Stamina Cost
Battles
Description
Notes
Reward
Reward 2020
Mako Reactor 2: Upper Levels
5
3
Security: Dadaluma Squad sighted.
Elemental affinity unknown.
Starting point.
-
Employee Corridor 2
5
3
Wind swarm sighted.
-
Control Room Switch
6
4
Golem sighted.
Red switch 1
Metal Cactuar ★4 x1
Wind x2000
Dark x2000
Metal Cactuar ★4 x1
Wind x100,000
Dark x100,000
Employee Corridor 1
4
3
Wind boss sighted.
Red lock 1
-
Storehouse Switch
6
4
Security: Dadaluma Squad sighted.
Elemental affinity unknown.
Blue switch 1
Phoenix Down x1
Water x2000
Earth x2000
Phoenix Down x1
Water x100,000
Earth x100,000
Shinra Factory
5
3
Earth boss sighted.
Blue lock 1
Water Pneuma★4 x1
Product Transfer Corridor
5
3
Water swarm sighted.
-
-
Science Wing
5
3
Wind boss sighted.
-
Gil x5000
Gil x100,000
Experiments Room
6
3
Fire swarm sighted.
-
-
Science Wing Switch
7
4
Water boss sighted.
Blue switch 2
Metal Gigantuar ★3 x1
Fire x2000
Light x2000
Metal Gigantuar ★3 x1
Fire x100,000
Light x100,000
Hidden Materials
7
5
Diremite sighted.
-
Elixir x1
Ability Ticket x2
Pale Light x1
Elixir x1
Ability Ticket x20
Pale Light x1
Fast Travel Device: Teleport
6
3
Mindlasher sighted.
Blue lock 2
Ability Ticket x1
Ability Ticket x10
Offices Landing
6
3
Fire swarm sighted.
(teleport station)
-
Library Entrance
5
3
Security: Medical Team sighted.
Elemental affinity unknown.
-
Elixir x1
Offices Hallway 1
5
3
Security: Dadaluma Squad sighted.
Elemental affinity unknown.
-
-
Offices Hallway 2
5
3
Security: Dadaluma Squad sighted.
Elemental affinity unknown.
-
-
Offices Switch
5
4
Security: Dadaluma Squad sighted.
Elemental affinity unknown.
Red switch 2
Metal Gigantuar ★4 x1
Phoenix Down x1
Enlightenment Room
5
5
Killer Mantis sighted.
-
Pale Light x1
General skill card ★2 "Enhance Water+4%"
Library 1
7
3
Mantis sighted.
Red lock 2
Bronze Opener x1
Library 2
6
4
Fire and Water swarm sighted.
-
-
Library Switch
8
3
Metalmite sighted.
Green switch 1
Water Fractal★4 x1
Fire x5000
Earth x5000
Water Fractal★4 x1
Fire x200,000
Earth x200,000
Dev. Division Corridor 1
5
3
Security: Medical Team sighted.
Green lock 1
-
Shinra Manager's Office Switch
5
4
Mindflayer sighted.
Green lock 2,
★ switch
Gigantuar Bulb★3 x1
Wind x5000
Dark x5000
Ether x1
Ability Ticket x10
Dev. Division Corridor 2
5
4
Security: Medical Team sighted.
-
-
Dev. Division Switch
5
4
Security: Medical Team sighted.
Red switch 3
Metal Gigantuar ★4 x1
Mystic Tablet x1
Water x5000
Light x5000
Metal Gigantuar ★4 x1
Mystic Tablet x1
Water x200,000
Light x200,000
Patrol Route 1
5
3
Wind and Earth swarm sighted.
Red lock 3
Ability Ticket x1
Ability Ticket x10
Patrol Route 2
5
3
Wind and Earth swarm sighted.
-
-
Mako Reactor 2 Gate
5
3
Fire and Water swarm sighted.
-
Phoenix Down x1
Patrol Route 3
5
3
Fire and Water swarm sighted.
-
-
Emergency Switch
7
4
Earth boss sighted.
-
Ether x1
Ability Ticket x1
Gigantuar Bulb★3 x1
Wind x200,000
Dark x200,000
Mako Reactor 2 Security
7
3
Boss sighted.
★ lock
Magicite x100
Ability Ticket x2
Pale Light x1
Magicite x100
Ability Ticket x20
Pale Light x1
Mako Amplification Device
6
4
Killer Mantis sighted.
-
Bronze Opener x1
Silver Opener x1
Crystal x2
General skill card ★2 "Resist Water+2%"
Exclusion Zone
6
3
Fire boss sighted.
-
Elixir x1
Broken Device: Teleport
6
3
Earth boss sighted.
-
Crystal x1
Gil x10,000
Crystal x1
Gil x500,000
To Mako Reactor 2: Lower Levels
8
4
Fire Lizard sighted.
-

Skill Coin ★2

x2
Mystic Tablet x2
Trash Room
9
5
Guard Scorpion Mk.I awaits!
-
-
Contaminated Materials
9
5
Guard Scorpion Mk.I awaits!
-
Gold Opener x1
Ether x1
Pale Light x1
Key Items
[
]
Pale Light (Dec 2017 event)
Notable Encounters
[
]
Feb 2017 event:
Dec 2017, Dec 2018 events: