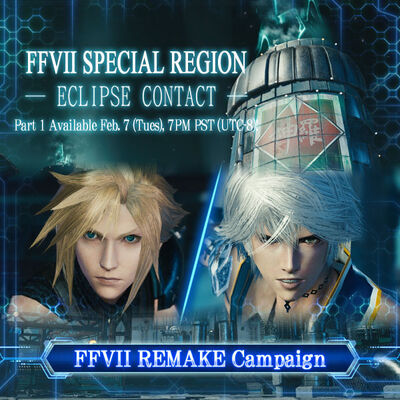 | | | |
| --- | --- | --- |
| " | Even the SOLDIER from a faraway land knows the law of Palamecia: The warrior who does not fight is forgotten. | " |
| | ~ Game Description | |
Mako Reactor 3: Upper Levels is the fourth of the dungeon regions for the Eclipse Contact event -- part of the Final Fantasy VII Collaboration Event. Players gain access here after finishing Mako Reactor 2: Lower Levels, and face off in the end against the Guard Scorpion Mk.II.
Event Details
[
]
See the pages for Eclipse Contact and Final Fantasy VII Collaboration Event.
Story
[
]
Continuing from Mako Reactor 2: Lower Levels
Wol is pondering Cloud's situation. What would have happened if Wol had dismissed Vox when he first arrived on Palamecia. Would he have been branded a heretic, left with bits of memories from his old world... like Garland? Not likely, says Echo -- Garland is cursed with memories from this world.
Wol also asks about SOLDIER. Would he have qualified? Clouds says he might have made 3rd Class: the lowest one. It sounds bad, but he explains even they are a select few, and MUCH stronger than the typical human... all courtesy of Mako, of course.
Cloud has questions of his own. What is Palamecia like? Still a beautiful place, Wol comments. So very unlike Midgar. ...and that Echo creature. Did Wol ask for that? Alas, no, Wol admits, she's just a necessary part of the whole Warrior of Light thing.
Cloud changes things a bit on this round: He'll keep the Security Guards distracted while Wol hits the switches. It's not that different from previous levels, though -- Wol still has to mow through a bunch of fiends to reach the switches.
With all of this level's switches thrown, Cloud is more concerned. His memories are slowly returning, but they're so very scattered and disconnected. The more he reflects, the more he's concerned that these memories aren't his -- that he's a fake. Wol and Echo both point out that memories are a fickle thing, but he won't be consoled.
To be continued in Mako Reactor 3: Middle Levels
Event Map
[
]
| | | |
| --- | --- | --- |
| " | While you and Cloud fight your way through the reactor, Cloud becomes aware that something is not quite right with him... | " |
| | ~ Map Description | |
Many of the paths on this map are locked, and require specific switches to be thrown to gain access.
There are 38 areas in total on this map, including 34 treasure chests and 24 locked routes. Difficulty will scale depending on how strong you are, so enemies will vary from player to player.
Map Locations
[
]
Area Name
Stamina Cost
Battles
(after first run)
Description
after first run
Notes
Reward
Reward 2020
Mako Reactor 3: Upper Levels
5
3
Water and Wind swarm sighted.
(starting point)
-
Patrol Route
5
3
Water and Earth swarm sighted.
-
-
Central Security
10
5 (4)
Imperial Lich sighted.
Security: Ghost Ship Squad sighted.
-
Magicite x50
Elixir x1
Pale Light x1
Main Engine Hallway 1
6
3
Fire swarm sighted.
-
-
High Voltage Room
8
6 (5)
Dyadic Lich sighted.
Fire and Wind swarm sighted.
-
Ether x1
Ability Ticket x1
Ether x1
Ability Ticket x10
Main Engine Bulkhead Door
6
3
Fire swarm sighted.
-
Dark x5000
Dark x200,000
Main Engine Hallway 2
6
3
Wind swarm sighted.
-
-
Decompression Chamber
8
5 (4)
Behemoth sighted.
Fire, Water, and Wind swarm sighted.
-
Light x5000
Gil x10,000
Phoenix Down x1
Light x200,000
Gil x500,000
Phoenix Down x1
Main Engine Hallway 3
8
4
Fire and Water swarm sighted.
-
-
Thermal Exhaust Switch
9
6 (5)
Great Malboro sighted.
Water swarm sighted.
Red switch 1

Skill Coin ★2

x2
Fire x5000

Skill Coin ★2

x2
Fire x200,000
Weapons R&D Hallway 1
7
3
Fire and Wind swarm sighted.
Green lock 1
-
Prototype Storage
9
6 (5)
Shadow Dragon sighted.
Fire swarm sighted.
-
Pale Light x1
General skill card ★2 "Resist Earth+2%"
Weapons R&D Hallway 2
8
4
Water and Earth swarm sighted.
-
-
Weapons Storage Switch
9
6 (5)
Killer Mantis sighted.
Water and Earth swarm sighted.
Blue Switch 1
Magicite x50
Urban Planning Hallway 1
5
4 (3)
Ochu & Microchu sighted.
Fire swarm sighted.
Red lock 1
Earth Fractal★4 x1
Urban Planning Hallway 2
6
3
Water swarm sighted.
-
Water x5000
Water x200,000
Urban Planning Hallway 3
8
4
Wind swarm sighted.
-
Mystic Tablet x1
x5000
Mystic Tablet x1
x200,000
Rec Room
10
6 (5)
Miasmatic Lich sighted.
Security: Acheron Squad sighted.
-
Ability Ticket x1
Pale Light x1
General skill card ★2 "Enhance Earth +4%"
Ability Ticket x10
Pale Light x1
General skill card ★2 "Enhance Earth +4%"
Secretarial Office Switch
10
6 (5)
Mindflayer sighted.
Security: Evil Eye Squad sighted.
Green Switch 1
Metal Gigantuar ★4 x1
Wind x5000
Metal Gigantuar ★4 x1
Wind x200,000
Quality Assurance Hallway
6
3
Water and wind swarm sighted.
Blue lock 1
Gigantuar ★4 x1
Cargo Route 1
7
3
Earth swarm sighted.
-
Fire x10,000
Water x10,000
Fire x300,000
Water x300,000
Cargo Route 2
8
4
Wind and Earth swarm sighted.
-
Wind x10,000
Earth x10,000
Wind x300,000
Earth x300,000
Delivery Entrance Switch
9
6 (5)
Diremite sighted.
Fire swarm sighted.
Red switch 2
Light x10,000
Dark x10,000
Light x300,000
Dark x300,000
Quality Assurance Entrance
6
4 (3)
Behemoth sighted.
Wind swarm sighted.
-
-
Quality Assurance
7
3
Fire, water, and wind swarm sighted.
-
Phoenix Down x1
Centrifuge
8
4
Fire and water swarm sighted.
-
-
Accepted Product Storage
10
6 (5)
Behemoth sighted.
Water swarm sighted.
-
Silver Opener x1
Pale Light x1
Waste Recycling
10
6 (5)
Great Malboro sighted.
Fire swarm sighted.
-
Silver Opener x1
Pale Light x1
Shinra Factory
7
3
Wind swarm sighted.
Red lock 2
Ether x2
Heavy-Duty Conveyor
8
4
Water swarm sighted.
-
-
Gate Switch
12
7 (6)
Shadow Dragon sighted.
Water swarm sighted.
★ Switch
Phoenix Down x1
Exclusion Zone Gate
9
4
Wind swarm sighted.
-
Elixir x1
Exclusion Zone
10
4 (3)
Guard Scorpion Mk.II awaits!
Water swarm sighted.
★ Lock
Gold Opener x1
Magicite x100
Ability Ticket x3
Pale Light
Gold Opener x1
Magicite x100
Ability Ticket x30
Pale Light
To Mako Reactor 3: Middle Levels
7
4 (3)
Great Malboro sighted.
Earth swarm sighted.
-
Earth Pneuma★4 x1
Key Items
[
]
Notable Encounters
[
]
Feb 2017 event:
Dec 2017, Dec 2018 events:
Notes
[
]