Obi-Wan Finale - The Loop
Play Sound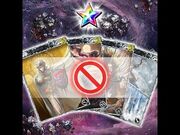 Floating Continent is one of end-game contents, available in Second Act Map region. It is an extremely harsh and challenging content with following restrictions below:
Friend's Ability Card Rental Forbid, similar as Endless War.
No-Supreme Card Abilities. Each cast of supreme ability will be reflected back to player with permanent/non-removable debuff penalties until end of battle rounds.
Preemptive/Round-based Conditions. Some battles can be set preemptively with certain restrictions such as Healing Restriction, Doom, 999,999 HP Recovery for fiends per turn.
There are total 9 areas in this map, each area consists of 3 Vortexes nodes with increasing difficulties and various restrictions. Each area clearance will be rewarded with
Overbooster-J x11 ,
Summon Ticket x1 , and Mark x3 (Copper, Argentum , and Aurum for each vortex)
Reference/s
[
]
- Altema Wiki - https://altema.jp/ffmobius/matairiku