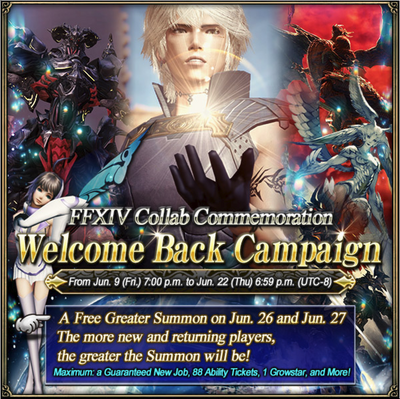 In June、Mobius FF will be having a collaboration with FFXIV to celebrate the release of their new expansion, Stormblood! Please look forward to special contents, such as FFXIV cards and FFXIV's Ultima Weapon appearing in multiplayer.
To commemorate this big event, we will be holding a welcome back campaign!!
We are preparing a special present, which becomes greater with the number of new and returning players during the campaign period!
Welcome Back Campaign!
Period

We will be totaling the number of players who newly begin Mobius FF and returning players who haven't logged in for 30 days or longer. A great gift that changes with the total number of players awaits once the count is concluded! Invite your friends to the world of Mobius, whether they have yet to play the game, or hadn't logged in recently. Campaign Period: Friday, June 9th, at 12:00 a.m. to Thursday, June 22nd, at 11:59 p.m. (UTC-8)
Free Special Greater Summon!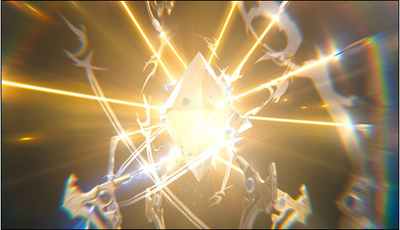 That special present is...... a free special Greater Summon!! Not just a summon, but a Greater Summon! We will prepare a free one-time Greater Summon with special bonuses to all players depending on how many new and returning players we see by June 22nd! The scheduled days and details are as follows. Greater Summon Release: Monday, June 26th at 12:00 a.m. to Tuesday, June 27th 11:59 p.m. (UTC-8)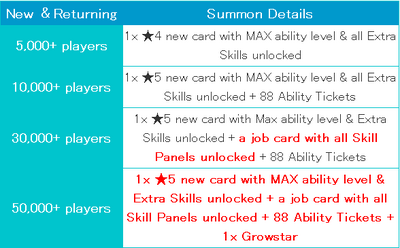 Of the 6 cards, the first card summoned will always be a new card at MAX ability level with all Extra Skills unlocked. Truly a special Greater Summon! The current number of new and returning players can be looked up in the multiplayer region Ring of Braves, at the sign next to the quest giver. Notice ・From the cards added up until May 31st, 6 random ability cards, and 1 unobtained job card will be summoned. ・If you have already obtained all job cards, 1 ability card will be summoned in place of a job card. ・In the 50,000+ players Summon, a Legend Job can also be selected separately from normal jobs. ・Supreme cards will not be summoned.

Rewards You Can Receive Right Now! There are also rewards you can receive immediately! By logging in during the campaign period, you will receive one of the rewards below! Distribution Period: June 9th 12:00 a.m. to July 2nd 11:59 p.m. (UTC-8)
A Welcoming Gift for New and Returning Players!

Players new to Mobius FF and players who had not logged in for at least 30 days will all receive a free Mobius Giftbox! With plentiful bonuses from the giftbox, we hope that you have an enjoyable journey through Palamecia!



In addition to Summon Tickets and Growstars, for a period of 30 days Seed Bonus is applied, and bonus periodic presents are received from the Mobius Giftbox. For further details, please refer to the article with the above banner! If you want to begin a new adventure, now is your chance!
The giftbox will be available upon completing the tutorial in the first chapter.
A Thank You Gift for Continuing Players!

For players who have been playing the game, we are giving out 20 Ability Tickets! Please use them to raise your favorite ability cards!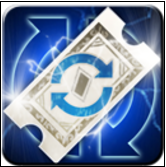 Notice ・The rewards are available once the tutorial in Chapter I has been completed. ・If the tutorial has already been completed, the reward will be delivered upon login. ・The rewards are only available once during the campaign period. ・You cannot obtain both the New/Returning Player reward and the Continuing Player reward.

Mobius FF Continues to Evolve! Thanks to you, Mobius FF has reached its 10th month since launch. We would like to thank all players for their support. We will continue to release content that will be enjoyed by you all in the updates to come. August marks the anniversary of the global version release! We are planning various tweaks to the game system, such as magicite rewards from battles. Please look forward to it!
We hope that you continue to play and enjoy Mobius FF!